Before reading the following review I have to say one thing. I'm not really a fan of sandwiches, but over the past few month I have been trying and finding some places serving sandwiches I have come to crave and the newest place I've found in San Diego was something I was really excited to try called Fat Sal's Deli located in Pacific Beach. Fat Sal's Deli is a junk food paradise, each one of their sandwiches has no less than 3 different types of meat, most of which you have never hear paired together before.

I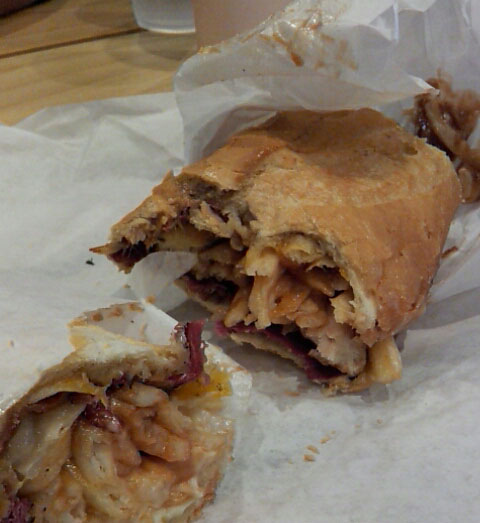 went with my roommate Kasey, so I got to try two different sandwiches because we each had a half of each other's sandwiches. I had the Big Fat Texas which included bbq pastrami brisket, chicken fingers, bacon, mozzarella sticks, French fries, grilled onions, and honey bbq sauce on a garlic sub. I know it seems like a lot of items for one sub, which it most definitely is, but it all worked together. My roommate got the Fat Buffalo which was made up of chicken fingers with buffalo sauce, mozzarella sticks, French fries, blue cheese, and provolone cheese, you could also get jalapeño poppers inside. The bread on the sandwiches was perfect, I've been to plenty of regular sandwich places who didn't have bread nearly as good as Fat Sal's is serving up.
Fat Sal's is a fun dining experience because it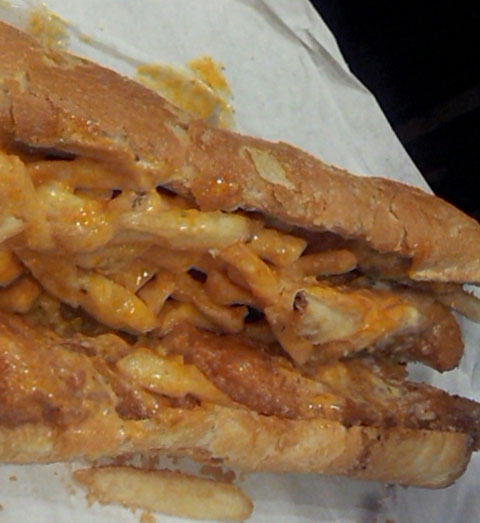 completely dissolves the way we normally think about sandwiches and what we expect them to include. The sandwich shop is open late and as it is perfectly located near all of the bars on Garnett Ave. it will be sure to take over some of the late night burrito business from local tauquries such as Ramone's and Roberto's. They also serve up less gut busting sandwiches for the more traditional eater who doesn't find a stuffed sandwich appealing.