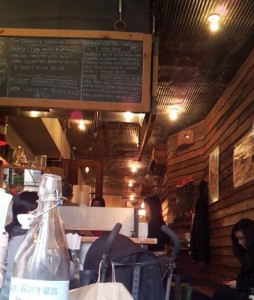 When I was in New York City a few weeks ago my girlfriend and I went to meet my cousin and her husband for lunch in Manhattan at Pure Thai Cookhouse. The restaurant was amazing, it was made of all wood from the noodle cooking station in the center so you could peak over and see what the chef was doing, to the picnic table style seating all the while listening to first wave Thai ska music (which I had never heard before, but knew exactlywhat it was). All of the plates were different colors and there was a little section near the register where you could buy all sorts of toys and snacks from Thailand. I knew from just the decor of the restaurant we were in for a real treat, the food looked so good we almost ended up ordering everything on the menu.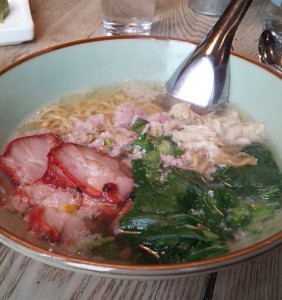 The first dishes we ordered were a couple of appetizers. We ordered the vegetable spring rolls which were just the right crispness without being too fried or soggy. We also got an  order of steamed vegetable dumpling which were green because the wrapper was made out of spinach .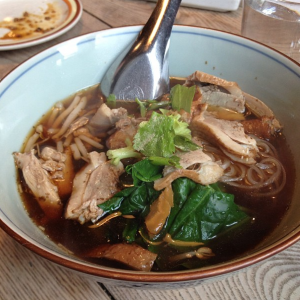 When our entrees came it was a little too much to handle almost. I ordered the Ratchaburi crab and pork noodle soup, I just couldn't help but order this dish because it had three of my favorite food items in it… crab, pork and of course noodles. The broth was pork based and the crab was just enough to make the broth taste a little like seafood, bit not overwhelmingly. Another dish ordered at the table which I tried was Nakorn-patam duck noodle soup(actually Iate about half of it, as well as my own bowl). The duck noodle dish was by far the best item I tried. The soup was delicious and it tasted like duck in every bite. I could go back and order this dish over and over again. Pure Thai Cookhouse is the type of place you can expect to only find in a few places and it fits very well into New York City, I can't wait to go back.