On a recent trip to New York City I had one restaurant in mind for that one shred of free time where there was nothing on the agenda leaving a little room to improvise searching for a near by snack or bar. I instantly knew I wanted (needed) to go to momofuku noodle bar. For months I have been hearing about the momofuku restaurants on TV and from friends, I had to go. It was definitely a great experience from the modern/traditional hybrid of the dinning area and bar to the delicious food with a great selection of beer.
It was pretty cold outside somewhere in the mid 20′s and I had some time to kill before my friend got out of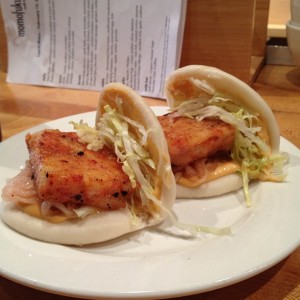 work, so I figured why not grab a snack and a beer. I started off with a Kelso pale ale, which I thought was very fitting seeing as it is a Brooklyn beer and I New York City and also an order of the shrimp bun. The bun was one of the best appetizers I have ever had. The pillowy bun was holding a shrimp pattie covered in spicy mayo and diced cabbage, I could tell how fresh the bun was. I am used to bbq pork buns, more commonly scene in Chinese food. It was a real treat to try out this different type of bun.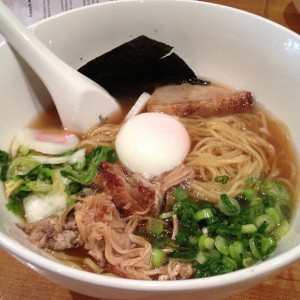 After finishing the buns the main even came out, a large hot bowl of momofuku ramen which included pork belly, pork shoulder and a poached egg all in this famed establishments signature pork broth. At this point I have had ramen at over 10 different restaurants, but mostly in California. The type of ramen being served at momofuku is a new wave kind of ramen meant to appeal to audiences who aren't ready for traditional ramen yet. Having said that, the ramen here was great, completely hitting the spot and living up to the buzz in the food world I had been hearing. Next time I am in the city or a friend asks me where to go in Manhattan to eat I will definitely throw out momofuku noodle bar as a suggestion.
Website – http://momofuku.com/new-york/noodle-bar/