I lived in San Diego from December of 2009 until April of 2013 and found lots of interesting and inexpensive foods. Here's the list (in no particular order):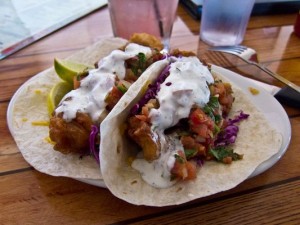 1. South Beach Bar & Grill (Ocean Beach) - One of the first places in SD that I loved. If you like tacos or just seafood in general this is the perfect place for you. All day long Tuesday and every night after 10:30 PM all of the tacos on the menu (except the lobster taco) are $2.50 and the portions are out of control big. You can get anything from a wahoo to fried oyster taco. Not only are the tacos great and the beer plenty there is a perfect view of the OB pier and the ocean, making for a great place to catch the sunset.

2. Phil's BBQ (Loma Portal) - I lived across the street from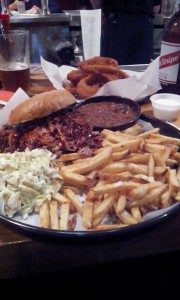 Phil's for many years so I went often. Phil's is rated as one of the best barbecue restaurants by critics and fans nationwide. Their ribs are monstrous (think dinosaur bones from the Flintstones) and the sandwiches are stacked to the ceiling. My favorite is the Broham which is a bbq pork sandwich smothered in Phil's  signature sauce. The sides are another item to mention, the onion rings are the size of a Frisbee and the baked beans are flawless. They care a wide range of local San Diego beers, so make sure to grab a seat in the bar and eat because the line for the regular dining area is around the building sometimes.
3. Mika Sushi (Pacific Beach) - Every Monday and Tuesday at Mika the regular and premium  sushi rolls are all 50% off making some of the special rolls around $7! I have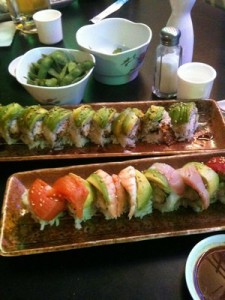 been here countless times and introduced many of my friends to this place. My favorite roll is the rainbow roll with real crab substituted for imitation crab ($2 extra). Also, the garlic edemame is killer about $3. I've been in here and spent $30 between 2 people and I've spent $70 between 2 people because of how cheap the items are you can order things you might normally feel are too expensive.
4. Bub's Dive Bar (Pacific Beach) - For the longest time I went to Bub's every Wednesday night for .25 wing night where I ate too many wings and usually drank too many beers. At Bub's they are known for their wings which are actually not so unhealthy as far as wings go because they are grilled rather than deep fried. They have a variety of sauces including buffalo, teryaki, bbq, and my favorite Archie sauce which is a combination of buffalo and honey mustard making for a sweet, yet spicy flavor. Another food item Bub's is know for is their tator tots, which are the crispiest I've ever tried and can't even imagine anything more crispy. It usually gets pretty crowded at Bub's on wing night, but don't worry you'll get a table eventually, so just grab a few beers while you wait.
5. Mona Lisa Italian Deli (Little Italy) - Wow! If you happen to find yourself in Little Italy this you're in for a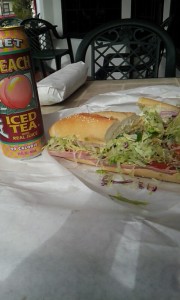 real treat. The subs at this deli/market/restaurant are amazing (imagine a sub 100 times better than Subway). The most expensive sub here is $8 for the imported proscuitto, but the sandwich I always order is the deluxe sub containing salami, mortadella, ham and provolone packed on to fresh bread with veggies and Italian dressing.